Please kindly note: This cover is NOT genuine leather. It is made of PU Leather. The most distinctive feature of the cover is non-fading. Package includes : 1 x steering wheel cover 1 x sewing needle 1 x sewing thread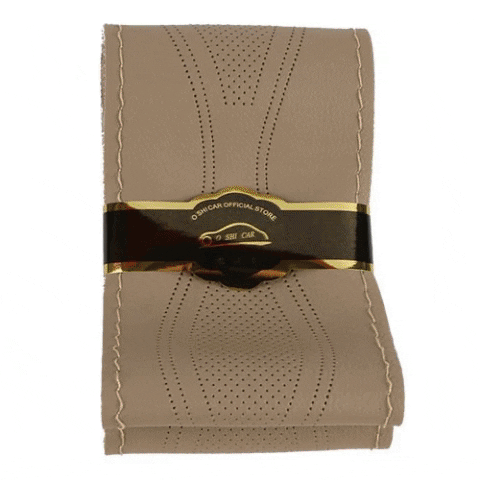 It is possible that you may feel the steering wheel become hot or cold in extreme weather. The discomfort can be relieved to a certain extent by using the cover.
The design of Suede material of the contact surface makes the cover and the steering wheel fit closely together. So it has a good anti-slip effect.
Thickened design-steering wheel cover is strong enough. Please stretch it tightly by force when putting it on the wheel. Please do not worry. It will not be broken.
Product diameter (outside diameter) is: 38cm. This product is suitable for almost 97% of car models.
Too small? Cannot put it on? No! You need to pull it by force!
Fits the 38cm or 15"(Outer diameter 14.9"-15.1") standard car steering wheel perfectly. This product is suitable for almost 97% of car models.
The item can protect your new steering wheel, or cover the original steering wheel which has been worn out, providing a completely new outlook for the inside of your car.
Different steering wheel covers can display your individual features because of good decorative effects.
The steering cover shall be stitched by hand. It will take about 30-40 minutes to finish the stitching.You can find Installation video by searching O SHI CAR on Youtube.
---